Double Setup Guide
---
The follow guide will show you how to set up your Double.
Assembling Double:
1.
Set the Double box down on a flat surface and undo the two tabs on the side.
2.
Once you have opened your Double box, remove the top section and set it aside. This cardboard section will contain the accessory box. Inside you will find warranty info, set up manual, a hex wrench, and bolt (1/4 - 20" W, 1 - 1/2" L). (Note: You may also find a power brick and charging cable if you did not purchase a Charging Dock with your Double.)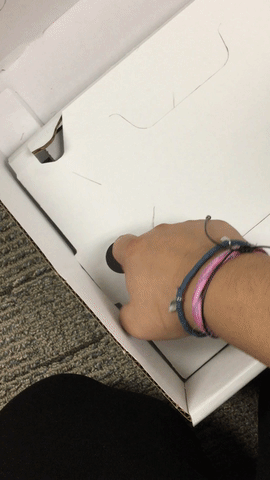 3.
If you have ordered an Audio Kit and Camera Kit, you will also find them in the top section of your Double box. If you have both, remove them from the Double box and set aside.
4.
Next, remove the iPad head and iPad Air Spacer.
5.
Finally, take the Double out from the box and place it on a flat surface.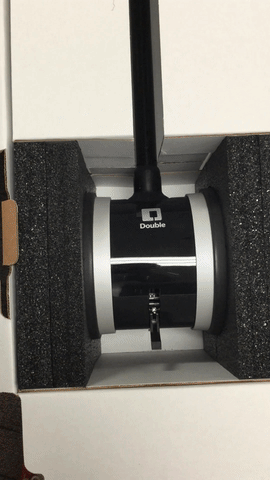 6.
If you have an Audio Kit with your Double, this is when you can install it. Instructions on how to set up your Audio Kit with your Double can be found here.
7.
Take the iPad head out of the box and remove the plastic.
8.
Place your iPad inside the Spacer, as demonstrated below
(Note: Make sure that the iPad Air Spacer is fitted to the iPad with the volume buttons exposed on the side):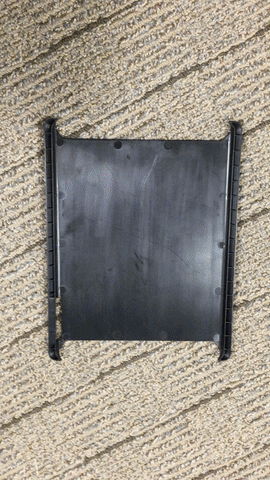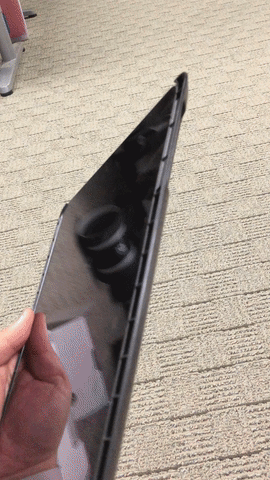 9.
If you have a Camera Kit, you can now install it on your iPad head. Instructions on how to set up your Camera Kit can be found here.
10.
If you do not have a Camera Kit, take an iPad charging cable and install it inside the iPad head. You can find tips on how to set it up here.
11.
Take your iPad and slide it inside the iPad head. It is important to note that the iPad must be inserted upside down.


12.
Plug in your Audio Kit microphone at the bottom of the iPad head and the Camera Kit at the top.
13.
Take the long bolt that came with your Audio Kit and insert it behind the iPad head through the opening at the top. Tighten with the hex wrench until it is firmly in place.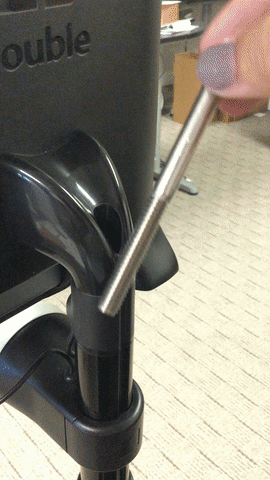 Pairing Bluetooth & App Set Up:
1.
Turn on your Double by hold down the power button on the back of the Double. It should power on within a few seconds.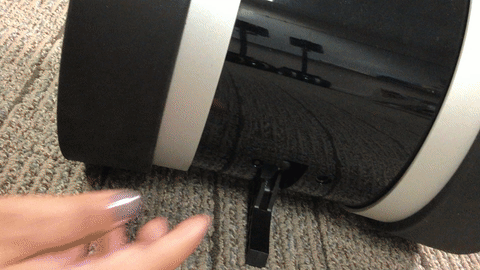 2.
The front LED of your Double should start flashing blue, indicating that it is ready to pair with your iPad.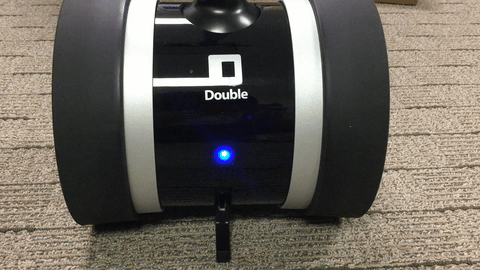 3.
Go to your iPad's Settings > Bluetooth, and locate your Double under the Devices list. Tap to pair.
4.
After a few seconds, your Double should pair with the iPad.


5.
You may then be prompted to download the Double Robotics app from the App Store.
6.
Go to the App Store app, search for Double Robotics, and download the app.
7.
Once it has been downloaded, you can either Sign In or Create An Account. Instructions on Creating An Account can be found here.
8.
You have now completed setting up your Double!


Storing Double Away
If you will be traveling with your Double or storing it away for more than 48 hours, we recommend that you turn your Double off. To do this, simply hold the power button in the back until all LEDs from the Double have shut off. Store the Double in its original box as it helps to protect any dust from gathering.

Please note that your Double should not go without a charge for more than 60 days. This is to keep the battery healthy and maintained.
Video Tutorial:
If you prefer, you can watch the video on how to set up your Double:
​
​
---
Last Updated: Mar 30, 2018 06:17PM PDT
---